Walk in Aviary - Double - 160" x 62" x 80"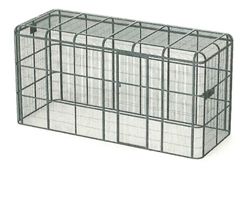 Walk in Aviary - Double - 160" x 62" x 80"
Non-toxic, durable and safe powder coated finish  

Includes outside access swivel feeders




Four stainless steel bowls 

1" and 1/2" bar spacing for large and small birds




Easy bolt together panels for easy assembly




Ideal for large macaws, cockatoos, small flocks, breeding pairs, really this would be 

phenomenal

 for any and all species
Centurion Cages are the original designers and manufacturers of the walk in aviary!  These outstanding enclosures can safely house everything from budgies to macaws, as the walk in aviaries are available in both 1' spacing with heavy duty 6mm diameter bars as well as 1/2" spacing with 4mm bars.  The enclosures are easy to assemble and come in a variety of configurations to suit any space you may have.  Walk in aviaries are the easiest enclosures to clean!  The bottoms of the panels are threaded and "feet" come standard with the aviaries; however, wheels or sliders can be added to make the aviaries movable.  Linoleum can be placed down to protect floors and then newspaper or rolls of brown Kraft paper on top.