Q: What bar spacing do the walk in aviaries come in?
A: The aviaries come in 1/2" bar spacing with 4mm bars and 1" spacing with 6mm bars.
The 1/2" spacing is great for the little guys - budgies, cockatiels, and conures but is able to house less
destructive medium birds such as african greys, poicephalus, and psittacula as well. The 1" spacing has heavy duty 6mm
bars that will stand up to the large macaws and cockatoos as well as safely housing medium birds such as eclectus,
amazons, and African Greys.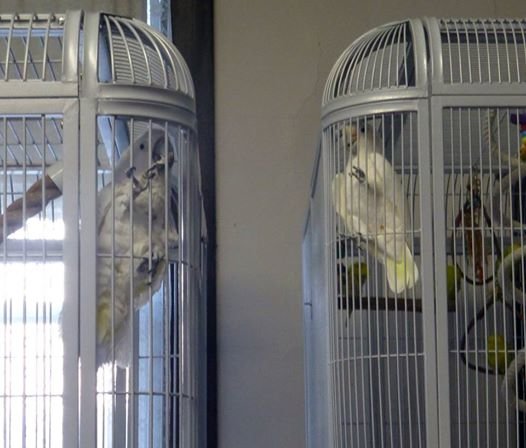 Q: What do I put on the floor? Is it difficult to clean?
A: If used inside many people put linoleum down to protect their floors and then use newspaper on top. Another popular flooring option is using rolls of brown kraft paper to pull through - which also makes cleaning extremely easy. Video below demonstrating this.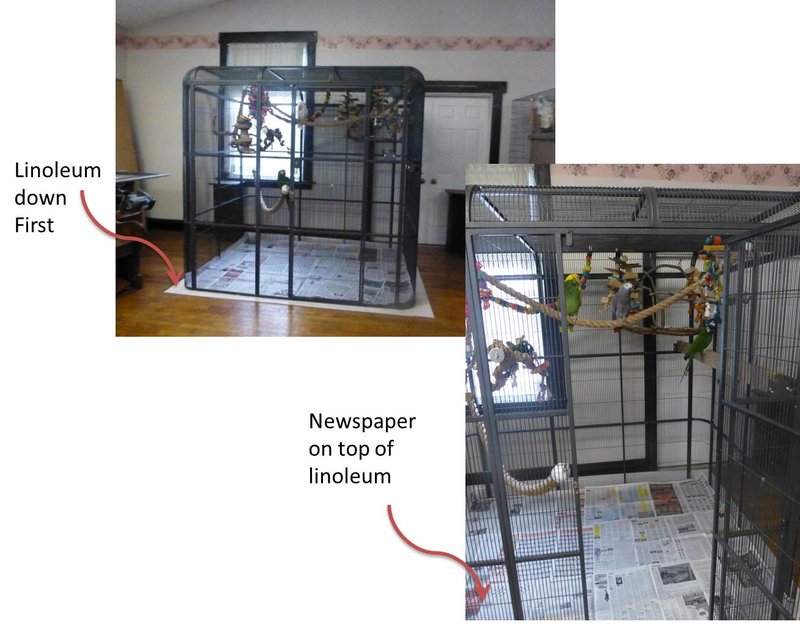 Q: Does the aviary come with wheels?
A: The bottom of all the walk in aviary panels have threaded inserts in them. Each cage comes standard with bolts to make "feet" that will raise the aviary up 1/4" to 1" above the flooring to allow for paper or hosing underneath. Or you can find an unlimited number of options online or at your local hardware store. Wheels can be screwed into the threaded inserts or use a triangle wheel caddy to make the aviary movable. If you have linoleum down, furniture sliders can be used as well. Or the aviary can be placed flat on a surface with no feet or legs at all! Some of the many options for your aviary are available below.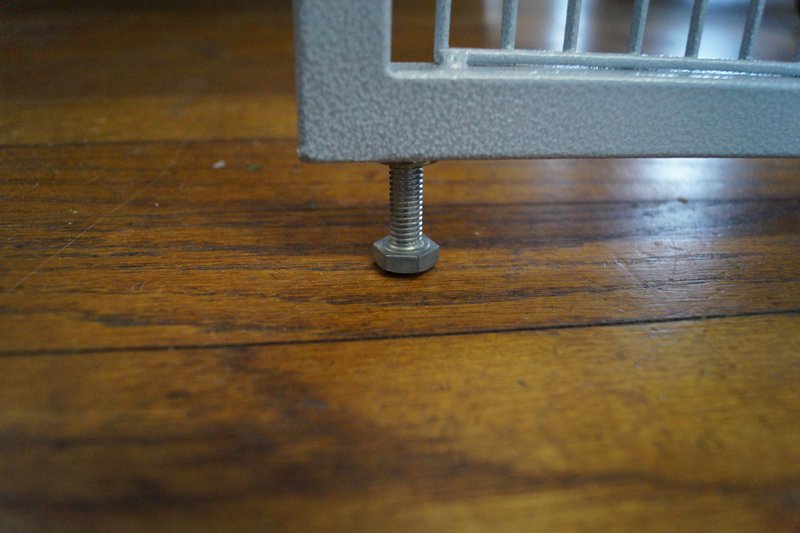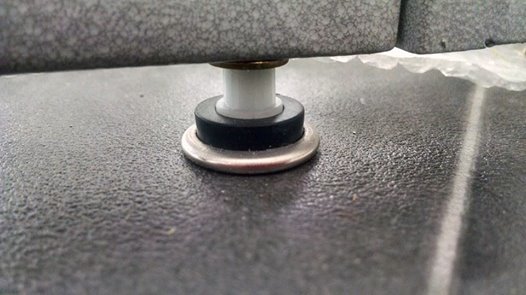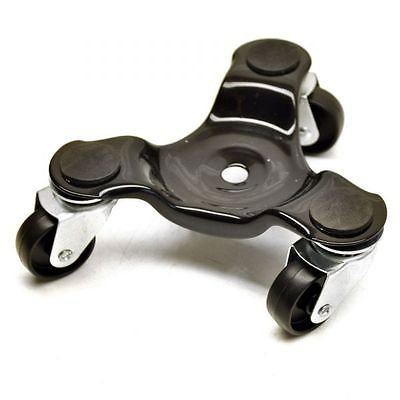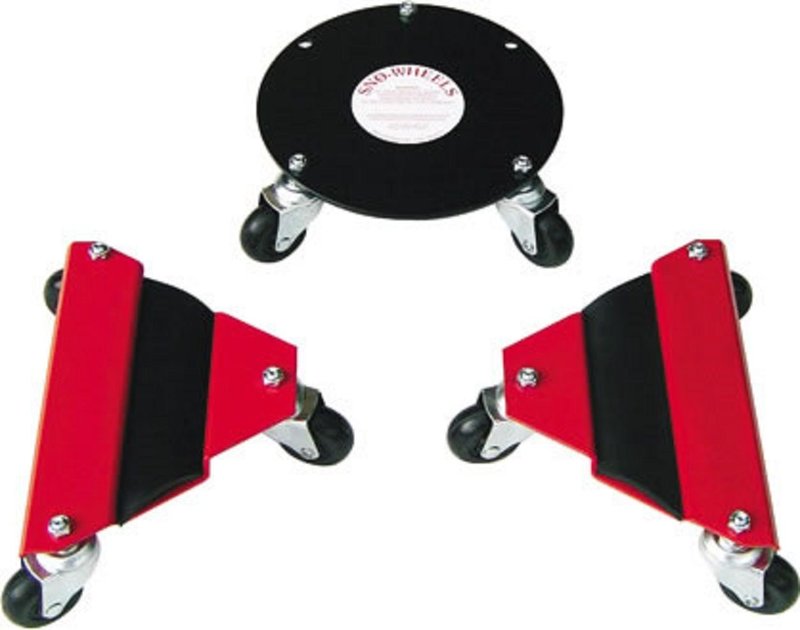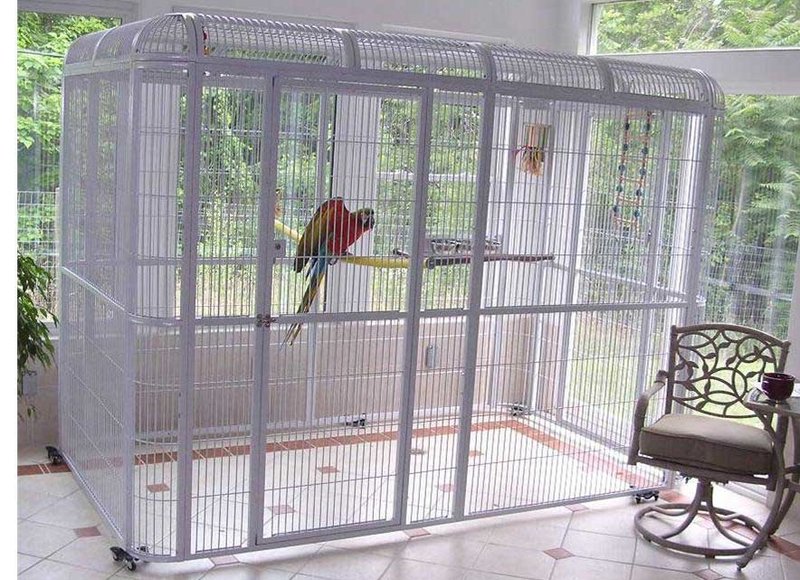 How many Locks are on the doors?
There are 3! A top latch, A key lock, and a sliding latch.
How does the shipping work?
A: All the cages are shipped freight (big 18 wheelers!). You will not get a tracking number like a UPS or FedEx package. When your aviary reaches the freight terminal that is closest to you, the freight company will call you to schedule a delivery window and discuss where you live and what needs to happen for a smooth delivery. When your enclosures are delivered they will be on a pallet. We use extremely reputable shipping companies and rarely have any issues. However, please note if there are any problems or damage of any kind on the bill of lading you are asked to sign by the driver. This is important for damage claims.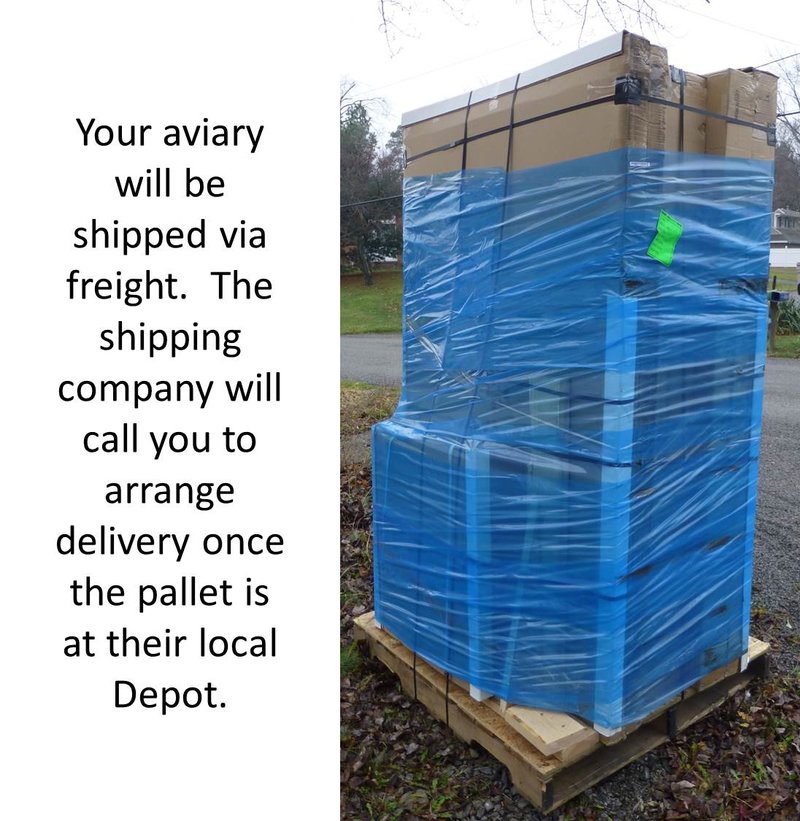 What is the food dish situation?
A: Each aviary comes with a rotating swivel feeder that has 3 large SS dishes. These allow outside access for feeding without having contact with the birds or permitting the birds to escape the enclosure. Additional outside access swivel feeder panels are able to be purchased when you check out if you would like additional feeding stations in your aviary. The feeder panels are 4' panels and are interchangeable in any side of the aviary for your convenience. So in a large and medium walkin, there can be up to three feeder stations (assuming the fourth panel is a door panel). and in a large and extra large you are able to have up to 5 outside access swivel feeders; each having 3 dishes.