2x4 Holder Birdy Brackets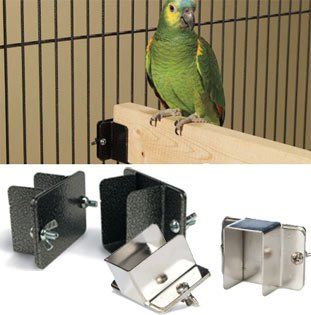 2x4 Holder Birdy Brackets
Must have for big chewers   




Save $$$ on perches and toys  

Create inexpensive foraging toys

  

 

Easy and Safe to use

Great fun for your parrot

Stable perch for handicapped birds

Perfect for breeder birds

Stainless Steel and Powder coated available
ALL NEW 
Must have for parrots who love to chew!
These powder coated, or 304 stainless steel, 2x4 holders make providing soft wood for your birds to destroy affordable, safe, and easy to replace.  The wooden boards slide in and out easily from the holders but fit snugly due to the tapered walls.  All mounting hardware is included with the brackets so they arrive ready to use.  Your local hardware stores, including Lowes and Home Depot, will cut your 2x4's to the desired length for free.  Soft pine perches provide hours of endless chewing entertainment and are a must have in any cage!  Be sure to offer a variety of perches in addition to square wood to ensure optimal foot health.   

   *Make sure to use untreated wood only*
AS EASY AS 1,2,3
Make your perches into foraging toys!